Great Lakes Hoodie
Stay warm this winter with the original Midwest inspired Great Lakes camo hoodie. The latest collaboration with Royal Outerwear.
January 13, 2016
There was finally a glimpse of hope in what had seemed to be the warmest november in recent memory. Not only did it look like temps were finally favorable for snowmaking there was also a decent sized storm shaping up for the weekend. The forecast called for snow starting friday night into the early morning Saturday, Tyrol Basin our home hill also announced they would open up their annual preseason hike patch Sunday. It was shaping up to be a good weekend, finally a chance to get back on snow!
I drove down from Oshkosh and Rayce drove from Milwaukee friday night to meet up with the crew in Madison. It wasn't long before we looked out the window and saw the welcome sight of snow flying down from the sky. Rayce and I grabbed our bikes to go check it out for ourselves cruising around campus. It was shaping up to be a good weekend getting back out on the skis.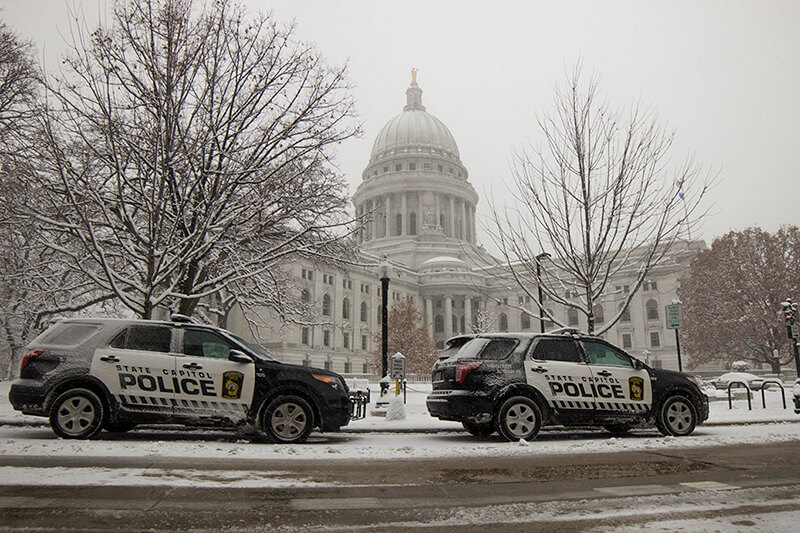 We woke up the next morning to a fresh blanket covering the city. Seth and I got up early to go shoot some video of the fresh snow, before heading out to film a rail on the outskirts of Madison. Six inches had fallen which is just enough to hit some decent sized rails. We decided to test our luck at a pretty high consequence closeout/wallride rail, I was against it but I'm just a filmer so what do I know. The skiers were all for the crazy, high, awkard closeout rail for the first rail of the year. As I expected the crew quickly realized how rusty they actually were. We got a lot of great fall shots and one usable shot of seth doing a front two to flat. We ended up calling it and moving on to something else.
We quickly realized that the six inches of snow really isn't much and we also didn't have much of a plan. We spent the next couple hours cruising around looking for spots. We found a small hill in the woods next to a road that rayce skied down, then we drove across that city to another rail that ended up not working, but rayce hit this wall ride ride next in a parking lot. Then we went to this 20ft picnic table to drop feature, we were losing light at this point and the landing that we build was about half of what it should be. Sam Anderson a snowboarder tried it a few times and compressed so much on the landing every time that he ended up calling it a bust. Rayce decided to give it a go and rolled in for his third hit and landed but kneed himself in the face. On that note we called it a day, the season had not even started yet and we were already getting banged up.
We came away with one shot that day, which wasn't the greatest but we were going to be riding Tyrol tomorrow and everyone who's anyone in wisconsin was going to be there. We rolled up to the hill Sunday morning, Tyrol was still blasting snow and the setup was prime. Finally some fun in the sun and snow with the whole crew. We stacked a few clips before calling it a weekend.
The next weekend the crew headed up to Granite Peak. Granite is in central Wisconsin so they have typically have colder temperatures, they were able to make a ton of snow and had a really good set up. We hot lapped the high speed six all day with Rayce, JRoc, Paul and Seth and were having fun cruising down the biggest hill in the midwest. The crew came away with a fair amount of clips that weekend. Things were just getting started we all were looking forward to what the season had in store!
Words by Ryan Ruffing